Explore Northern Alberta with the new & innovative History Check Mobile App.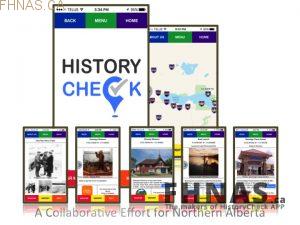 History Check is a map based mobile app for heritage sites and stories, attractions and services,  Live for the northern half of Alberta, History Check will be going province wide in June 2019.  The app is available as a free on both Google Play & the App Store and  can be downloaded HERE.
Search history, things to do or products and services, using Menu and then Search.  Find Community Information, using the Community Category Menus, or what attractions are nearby using the Near Me feature.
Operated by Impact Tourism, the content continues to grow through alliances and the collaboration of municipalities, individuals and organizations.
SITE VISITORS
Click on various menu titles below to see information on specific information areas of our website related to your interests and your type of organization.  We are transitioning our operations from FHNAS to Impact Tourism.  We appreciate your patience as we update information to reflect this change and transfer it to our new website.
FHNAS was founded on the principal of supporting the efforts of historical organizations in Northern Alberta. We have implemented programs that help you gain more exposure as well as fundraising opportunities. For more information, Click here:
Northern Alberta has a rich and diverse history that includes everything from pre-contact to the homesteaders. If you have a tidbit or a complete story and would like to share it you can find more information here:
If your business offers a service that makes exploring our history easier and more enjoyable we are offering you a free listing on the History Check. From gas stations to annual events, you can learn more about this collaborative effort here.
Whether you are wanting to gain exposure for your business, a cause you believe in or to sponsor a Historical Point of Interest in memory of a loved one this is an inexpensive way to support the History Check project. Learn more Here:
Contributing to a Positive Future for Alberta Communities
History Check is a project that allows regions and communities all across Alberta combine their information in a one-source app.   There are many aspects to the project that contributing to a positive future for Alberta Communities, while preserving and promoting our history.  Please select from the list below to view ways to collaborate in this effort.
Econ. Dev. Heritage Tourism
The success of History Check will effect the MDs in the region and its communities. We are asking for your collaboration, in funding, marketing, information and other aspects. We encourage municipalities to become part of our History Check App project. Learn More About Participating in Our Municipality Collaboration Program, Click Here
Cultural Heritage Preservation
The History Check project enables the telling of Indigenous stories from a first hand perspective, as well as positively influence economic development and opportunities, through Indigenous collaborations.
Museums, Archives, & Societies
FHNAS was based on the idea of collaboration for other non-profits with a historical mandate, and we have extended this to fundraising as well. You can receive up to 25% of individual HPOI sponsorships by registering for free.
Index of Heritage Resources
Follow this link to find information on reference materials and links to online sources of information. Visit Here:
"I was honored just to be nominated." says Sheila Willis.  "It shows not only an appreciation of my efforts but the importance of keeping the history of smaller communities alive."
The use of Drones (UAVs Unmanned Aerial Vehicles) in reviewing historical places, structures, and locations can offer a very unique perspective that, for many location, [...]
One Volunteer Invests 10,000 Hours into Heritage & Tourism Mobile App There is a movement afoot in northern Alberta - a mobile app [...]
One Volunteer Invests 10,000 Hours into Heritage & Tourism Mobile App There is a movement afoot in northern Alberta - a mobile app [...]
Is Encountering Big Foot Your ING Thing? Is encountering Big Foot your ING Thing?  For centuries, cultures around the [...]
Municipal Tourism Opportunity Opened Alberta Wide! The History Check heritage & tourism mobile app will expand Alberta wide in June 2019.  This opens [...]
History Check is Exceeding its Goals & Strengthening Northern Alberta Communities. Site by Site; Story by Story; Listing by Listing Since our launch [...]